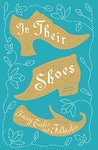 IN THEIR SHOES: FAIRY TALES AND FOLKTALES by Lucie Arnoux
My rating: 4 of 5 stars

To coincide with a major V&A exhibition: the best shoe stories from around the world

Red shoes, golden slippers, seven-league boots... Just step into the shoes of princes and princesses, ogres and orphans, cats and rabbits, and discover a fascinating fairy-tale world of footwear.

Did you know that long ago Cinderella lived in China? That dogs in America wear boots? And that a small pair of shoes in France can fall in love?

With original illustrations by Lucie Arnoux, this is a timeless and captivating collection of fairy tales and folktales, whose footprints have lasted through the generations, over the centuries, and all around the world.
This little book is just beautiful! The cover is stunning, the gold shoes glisten in the light and parts of it are embossed. Although this is marketed for the children's audience adults will enjoy this little gem just as much.
This is a collection of short stories, which are all old fairy tales or folktales from around the world. When reading, some of these I did find shocking, considering they are for children. In example The Red Shoes by Hans Christian Anderson has moments of gore and horror in it.
My favourite story was The Story of Yexian, this is the earliest known to date story of Cinderella, set in China. Although it is different to the Cinderella we know today, you can quite clearly see the similarities of it.
Some of the stories I found a little difficult to follow and my attention began to drift. However, I enjoyed the majority of the stories, just at times I couldn't believe how dark they were, saying that though the Grimm Brothers are well known for their dark fairy tales.
If you are a fairy tale lover this is certainly a little book to add to your collection. I liked how short the book was as a whole but included a lot of stories. These are perfect for reading just before you go to be as they are short enough for you to enjoy a whole story before falling asleep!
I would like to thank the publisher for sending this in exchange for an honest review.