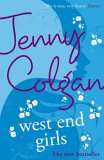 West End Girls by Jenny Colgan
My rating: 4 of 5 stars


The streets of London are paved with gold ... allegedly.

They may be twin sisters, but Lizzie and Penny Berry are complete opposites - Penny is blonde, thin and outrageous; Lizzie quiet, thoughtful and definitely not thin. The one trait they do share is a desire to DO something with their lives, and as far as they are concerned, the place to get noticed is London.

Out of the blue they discover they have a grandmother living in Chelsea - and when she has to go into hospital, they find themselves flat-sitting on the King's Road. But, as they discover, it's not as easy to become It Girls as they'd imagined, and west end boys aren't at all like Hugh Grant ...
I was looking for an audio book to keep me entertained on the way to work in the mornings and evenings. This I thought was perfect as full running time is around 3 hours. I thought that this would last me about a week, which it did.
Morwenna Banks, the narrator really brings the story to life, she gets into character very well and managed to keep think up throughout the novel.
Penny and Lizzie are twins and have lived in a council house for most of their lives. Suddenly their luck changes and they move to a large flat in Chelsea, which belongs to their grandmother. They have not seen her for years and she now lives in an old peoples home.
Although Penny and Lizzie are twins, they are very different. Lizzie is happy to have the quieter life, getting a job in a sandwich shop and working for George. From the moment I met George I knew he was going to be a great character and I loved reading about his and Lizzie's story.
Penny in contrast seems loud, pretends to be someone she's not and is always wanting to party. Penny soon finds out living in Chelsea and trying to be famous is not all that it is cracked up to be.
I did enjoy listening to this book, however it was not very taxing. I could and did guess the ending but this didn't bother me as I was only looking to be entertained. As others have said, this is not the best Colgan book and her latest ones are certainly much better. However if you are looking for light relief then this is for you. Just don't expect to get a deep and meaningful story line as you won't.