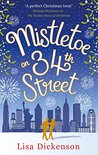 Mistletoe on 34th Street by Lisa Dickenson
My rating: 5 of 5 stars
Olivia has never experienced a snow-covered, 'traditional' Christmas before. Having grown up in a family that chose winter sun over decking the halls, she's not sure what all the fuss is about. So when she and her colleagues are stranded in New York after a work trip, Olivia is perfectly happy spending the holiday season in the Big Apple.

Jon, Olivia's friend, on the other hand is desperate to get home in time for his big family get-together. Nevertheless, determined to make the best out of the situation, he sets out to show Olivia how enchanting Christmas in New York can be. And when handsome New Yorker Elijah is added to the mix, could the magic of the season finally be working its charm on Olivia? As 25 December draws closer, Olivia suddenly finds herself with a decision to make: who does she really want to kiss under the mistletoe this Christmas?
I love Lisa Dickenson's novels, they are lighthearted and have a wonderful feel to them. When I knew she was releasing a new Christmas book, I couldn't wait to get started.
Right from the beginning Lisa has a way of drawing you into the book. You feel like the characters are old friends and you are joining them on a journey throughout. This book is no different to her others. Olivia is a bit of a scrooge when it comes to Christmas, she blames this on the fact she has never really had a traditional one, as her family prefer to enjoy their Christmas' soaking up the sun. Olivia welcomes the time off from work and loves Christmas for that reason but enjoys spending some time alone.
This year, the same as many others she needs to head to New York for a conference, she needs to try and gain interest in the company from across the pond to help it go international. Her boss has broken her leg so can't fly so puts Olivia in charge of the operation and is counting on her to get the company off the ground out there.
While she and her colleagues are out there, the U.K seems to have been hit by a freak snow storm and the snow doesn't seem like it is getting any lighter, due to this the airports are closed and there is on way of them getting back any time soon.
There are a few of Olivia's colleagues with her and although they have a part in the story most of them you know little about. To be honest Abigail I found incredibly annoying and immature, she spent the entire time going on about how she wouldn't be back in time to see her boyfriend. Towards the end I was actually growing tired of her.
Overall I loved this book, just as I have done with all Lisa's others and this will be a firm favourite on my shelf. I really liked the mix of work and pleasure there was in this story and there was quite a bit of humour. I was actually quite surprised it was quite emotional towards the end of the book. I rarely feel things like that in books but it did bring a tear to my eye when they were leaving to go to the airport.
This has to be the perfect Christmas read, snow, New York and Christmas all in one book. From previously visiting New York I was able to relate to places they were in the book and really visulise them which I thought made the book even realer for me.
Lisa Dickenson has really done it again with this cracking read. She is firmly one of my favourite authors, whose books I look forward to getting. I only wish they lasted a bit longer! Reading them in one sitting is a complete fail!
I would like to thank the publisher for sending this in exchange for an honest review.